Electric Skateboard Event
We E-Boarder meet several times a year for an electric skateboard event in or around Berlin in Germany. If you are in town please join us.
You will find the next events on our E-Boarder Facebook page. Please subscribe in order to not miss them and to get updates about reviews of electric longboards.
FORMER E-BOARDER EVENTS:
Here some facts, pictures and videos from our recent events …
E-Boarder meet up "skate at night", Berlin July 2017
Once a month in summer (if the weather allows) we join the skate by night events in Berlin. In Juli were were present with 5 electric longboards.
You will find a nice video from our ride in our video section.
2nd ELECTRIC SKATEBOARD EVENT Berlin Tempelhof July 2017
On Saturday July 15th 2017 we met again at airport Berlin Tempelhof for our 2nd electric skateboard event to hang out with our boards, get filmed, listen to great music and have fun.
We had 15 electric skateboards participating, such like Evolve Skateboards, 2 Mellowboards with different decks, 2 DIY electric longboards 3 Onewheels, 1 Yuneec E-Go, 1 BoostedBoard Gen2 and 1 Mo-Bo Off-road electric board.
We made a great video from the event: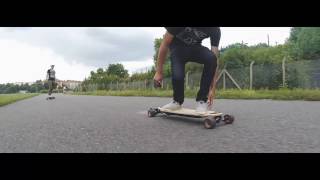 E-BOARDER MEET UP at skate by night, Berlin in May 2017
On May 21st 2017 we met at "skate by night Berlin" to ride our electric skateboards through the streets of Berlin. With about 2,000 people on inline skates, mono wheels and traditional longboards we had a lot of fun.
For more infos, pictures and a video check out our article about skate by night.
ELECTRIC SKATEBOARD EVENT Berlin Tempelhof April 2017
We had some bad luck with the weather. It was cold, it was windy and it could have rained anytime.
However, about 25 people came by and made test rides.
We had 1 DIY board, 1 BoostedBoard, 1 Evolve Carbon GT with All-Terrain wheels and 4 Evolve Bamboo GT with street wheels.
You can find the pictures in our gallery under pictures and we posted a video on our "E-Boarder" Youtube channel: 1. E-Boarder Meeting Berlin Tempelhof
We will meet again in July. Date to be confirmed. In July we should have T-Shirt weather and can enjoy a BBQ.