ELECTRIC SKATEBOARD VIDEOS
A small collection of electric skateboard videos.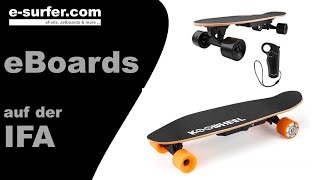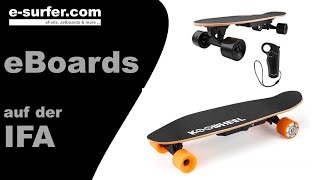 A few notes:
We are using different drones, GoPro's and cameras. Important are the right lighting conditions and a high frame per second rate. Yes, 4k videos are great, but of you have a lot of movement in your videos, the frame rate is even more important. The video will be smoother and you can add slow motion scenes as well.
As you probably know, most of the time needs to be spend on the editing. Especially if the video shall fit to the music.
If you are looking for good music, you should check out YouTubes's cleared music catalogue at: https://www.youtube.com/audiolibrary/music
Do you have cool videos, which you would like to post on our Facebook page? Please send us an email.
We want to see your electric skateboard videos, no matter if from the smartphone, GoPro, drone or professional video cameras.
If you want to see the latest videos in your Facebook Feed, please like us at facebook.com/eboarder/.
Please also our photos at our electric skateboard pictures section.
Enjoy!